News
How to Pick Window Curtains
Oct 10, 2022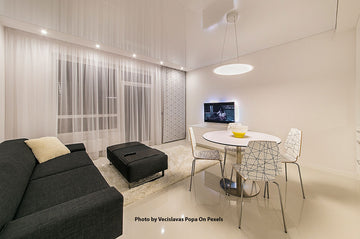 Choosing window coverings are an important aspect regarding the interior design of a home. We recommend upgrading curtains every 5 to 10 years. Every kitchen, bathroom, living room, dining room, or bedroom window treatment eventually becomes old and the color fades. Upgrading curtains help to extend the original life of the house in the same way polish extends the life of shoes.
Although solid curtains, blackout drapes or designer custom draperies enhance the look of a room, their functionality is to block dust from windows, control light intensity and add beauty.  Pattern curtains or draperies, allows a smooth visual transition from room to room, by coordinate pattern fabrics. Wood blinds and shades are also excellent window treatments that provide room privacy. Window size, shape, and furniture or room color should be taken into consideration, when selecting a window treatment.
8 Best Tips for Window Treatments
 #1: Determine whether your window needs a curtain, drape, shade, or blind.  
Curtain: Curtain panels are made of a light fabric that helps block incoming dust, wind, and sunlight. A rod pocket gives the curtain a more distinctive look.
Drapes: when choosing curtains and drapes decide and how high you want your curtain to hang and where you want them to fall. Hang pattern drapery, embroidered curtains, or textured cotton curtains in front of sheer window panel for a custom look. Buy longer than a need curtain to have a slight dip on the floor.
Shade: Window shades are used to block or diffuse incoming sunlight. It can be a cloth or plastic roll hung over the upper window and pulled down, when needed. Roman shades and roller shades are usually more expensive than blinds.
Blind: A blind performs the same privacy function as a shade but hangs different from a curtain or drapes. Blinds are usually less expensive than shades.
 
#2: Figure out the correct length of your window.
Photo by ANTONI SHKRABA on Pexels
How to hang curtains, hang the rod properly to ensure window curtains does not fall, out the wall. The curtain rods diameter must be accounted for to determine a curtains length. Correctly inserting a rod into the brackets is also needed to ensure the curtain is level with the floor and window. If ready-made curtains are needed, there are common standard-length options available such as 63 inches (160 cm), 84 inches (213 cm), 96 inches (244 cm), 108 inches (274 cm) and 120 inches (305 cm). If custom-made curtains are needed, options such as length, width, color, style, and design must be considered. Custom -made curtains are more expensive than ready-made curtains, depending on the drapery pattern or if you need extra-long-curtain. 
Below are options for having curtains touch the floor:
Hover: The hover ending should be used If you want to quickly open and close curtains. Hover means the curtain will end just above the floor. This will give your room a cleaner look.
Break: When a curtain is an inch long and touches the floor, it is called a break.
Puddle: A puddle-style finish provides a more glamorous, unusual, classy, ​​luxurious, and attractive extra-long look. In this style, you need to add another 6 inches of length to the curtain or drape as it touches the floor.
#3: Figure out the correct width of your window.
Ready-made curtains fit most windows because they usually have a standard width size which extends up to 48 inches because it narrows when pleated. An easy way to determine the width for a custom-made curtain is to measure the window and add 6 inches on each side.
#4: Fabric Choice
Before choosing a fabric, determine the window treatment's purpose. Room darkening or light filtering fabric will allow you to achieve the desired privacy or sunlight entering the room. Cotton blend may be the first choice for privacy and blackout features. For natural light, silver curtains, sheer curtains (linen, cotton) diffuse sunlight and allows only soft light to create a calming atmosphere in the room. 
#5: Color
We recommend you coordinate the drape's color based on the room's furniture. For a more finished look, a color that complements or matches the walls is a better choice. Contrast curtain colors draw more attention to one part of the room. 
#6: Which style? Printed or solid
Use a printed or patterned style that compliments your walls, furniture, and home decor. Contrasting colors attract attention. If contents of the room such as walls, furniture, and decorations, are colored, then a solid style is recommended. 
#7: Lined or unlined?
Since lined curtains are extra thick and double layered, they should be used for privacy. Unlined curtains filter sunlight but doesn't provide a high level of privacy. 
Photo by Tima Miroshnichenko On Pexels
Low-maintenance curtains: Usually, these types of curtains are unlined, machine washable and need to be cleaned every six months.
High-maintenance curtains: These curtains are lined and need to be vacuumed every week. They need to be washed every month because dust gets trapped in the fabric and it is challenging to vacuum.
Not cleaning on time can cause allergies.