News
How to Choose Shower Curtain
Nov 02, 2022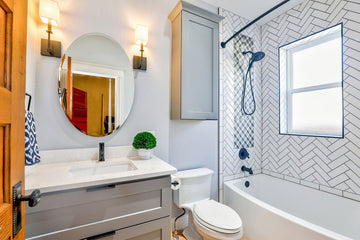 Most people know the purpose of curtains well, but for those who don't know about it, we and some designers have guided them for years. But did you already know its multi-purpose features?
A person buys shower curtains not only for their functionality but also to get decoration in an unloved washroom.
Choosing the right shower curtain is difficult because of the vast variations in size, dimensions, fabric, color, design, and style.
We're saying this because it's a harsh reality when choosing a curtain; sometimes, we like a lovely color and design that isn't practical for your shower. On the other hand, we finally found an utterly functional curtain with an unattractive design.
If anyone wants to know the fastest, easiest and cheapest way to upgrade any room, we'd have to say upgrade your curtains. It will be the same in the washroom, as just one item will give you multiple options: classic, vintage, chic, or modern.
So many options and so many possibilities to choose from.
What is a shower curtain?
These are also curtains, or we can say a type of curtains that are for specific purposes and areas. Their hanging style is the same as casual, but its purpose is to change a little as they act as a waterproof wall of fabric that prevents water from splashing all over the washroom and privacy. They also serve as a handy feature to garnish your bathroom.
What is the difference between a shower

liner

and a curtain?
Simply put, a shower liner is a plastic sheet that hangs on rods and drops inside the tub to prevent water from splashing onto the floor. While the shower curtain falls outside the tub and has both functional and decorative purposes.
The liner can be used with or without curtains. But curtains should be chosen for more privacy.
How to choose shower curtains?
The fabric of the Shower Curtain
You will be glad to know if we discuss the fabric type and qualities. Many options are available in the market, each with advantages and disadvantages.
Some are valued for money, some are good for privacy, some are multi-functional, and others are excellent for adornment.
First, I would say find your real need then the selection process becomes easy. For this concern, we explained each cloth; now look below.
Cotton
The first fabric on our list is cotton which fits well in all situations.
Only fabric is a market available in millions of color choices from plain to pattern.
Gives the bathroom a luxurious plus comfortable look.
Being born from nature, more nature friendly.
It is easy to maintain and highly effective in absorbing water when splashing is attempted.
Washing once a month is enough, but if the family is small, it can be once in two months.
Linen
Because of functionality, there is no more luxurious type of shower curtain available than linen.
It is the only natural fabric in this list after cotton, and we can say fabric. Others are also material, but not least fabric.
They are very durable, but you will need a liner for waterproofing. Don't worry; liners are not expensive these days.
Maintenance is easy, and a monthly wash is good.
Vinyl
If you don't want to spend much time on fabric selection and after-use care.
Vinyl is the best option for you which is popular these days.
It is made from a synthetic material that is easy to maintain and washable and comes in various attractive colors.
Cheap in price, but that doesn't mean anything is compromised.
You will be amazed as it has excellent decoration options.
Polyester
Another commonly used synthetic fiber is polyester which has an excellent fabric feel.
This means it's an admirable choice for people who don't like fabric and those who prefer less sensitive material.
An ideal choice for water conservation is the bathroom.
One thing here is that it is not environmentally friendly as it originated from machines.
Color
Shower curtains come in many colors, but you should look at your bathroom and observe each part. 
Now ask yourself if you want the curtains to stand out, then choose bold shades; if not, go with neutral colors.
Opt for plain curtains for a classic look, but for a modern and casual look, you should go with patterned curtains.
Measurement
Shower curtain size guidelines are a little different from other curtains in the room, so be sure to check before choosing.
Short, straight, and slightly longer lengths work well in a standard room. But here in the washroom, it is not so easy.
A brief shower curtain with a pair of precisely short lengths will definitely not work because then it allows some leakage.
Precise-height curtains can work better, and we can make this the perfect length to choose from and go a bit longer if you like the drapery style.
Some don't want to mess around because their exact length size would be a great choice. 
Below are some standard sizes that are used in ordinary homes.
70 x 70 inches
70 x 72 inches
72 x 72 inches
You don't need to choose a ready-made size if you have a custom shower area. Instead, you can choose custom sizes or consult your designers.
 How to Measure Your Shower for a Shower Curtain
This question is relevant here because how do you know whether your shower size is standard? Use a measuring tape to place it on the curtain rod and measure the length. From there to the floor and now adds 6 inches which are perfectly sized.
Top treatment
Shower curtains and other curtains are also hanging instead of being fixed. They hang on curtain rods. They have holes in the head for hanging on a stick; you must buy rings.
There are many quality rings available in the market to choose from. There are a few other head treatment options to consider such as hook less curtains.
Findings
Each type of shower curtain is good in its own way or situation. The point is, it's your choice and your shower area. Things are clearly discussed so you don't decide what you really want ready-made, custom-made, or consult a designer.